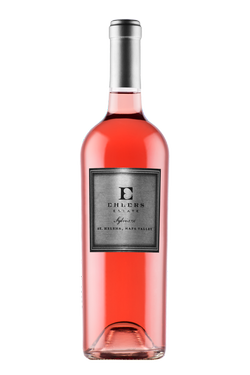 2018 Sylviane Rosé
Tasting Notes: I was so excited about making this rosé! I selected different blocks of Cabernet Sauvignon, Cabernet Franc, and Merlot that were expressing red berry flavors and nice acidity during the end of the season for this wine. The pressed lots were fermented in stainless steel drums and once-used barrels. The fermentation went very slowly and the used oak allowed for the development of a beautiful creamy texture in the wines. Combined with fruity aromas and nice acidity, the result is gorgeous. Aromas of strawberry jam, honeydew melon, violet flowers, and ripe apricot are followed by a silky palate and crispy flavor of juicy watermelon, vanilla bean, and candy.
Vintage: 2018 was the perfect vintage from a weather standpoint. Spring was mild, with extended flowering yielding uniform grape clusters. Temperatures remained steady and warm throughout the growing season. Cooler nights and mild temperatures during the day helped to retain the beautiful natural acidity, delicate flavors, and aromas of the fruit. The great weather conditions resulted in less irrigation and allowed the fruit to hang a few weeks more than previous years. Both factors helped to gain more concentration in fruit character, retain acidity and achieve great levels of tannins. We were able to pick at the perfect time in sugar and flavor ripeness without losing acidity.
Varietal: 58% Cabernet Sauvignon, 29% Cabernet Franc, 13% Merlot.
Harvest: September 13th to October 4th, 2018
Wine Analysis: 13.9 % alcohol ● 3.20 pH
Appellation: St. Helena, Napa Valley
Bottling Date: February 11, 2019
Cases Produced: 500 cases