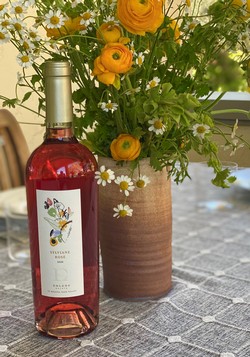 2021 Mother's Day Gift Pack
Make it a memorable Mother's Day with a unique gift from Ehlers Estate.
We discovered local potter Erin Dowling at a farmer's market and immediately fell in love with her rustic style and charm. Erin joined us for our last holiday marketplace and was a natural fit when we decided to commission her for a special Mother's Day project. Erin spent some time walking the vineyards, getting to know the personality and energy of the estate. The finished vase reflects the unique terroir of our property, with the varying color tones hinting at the surrounding hills. The organic lines and unique finish on each piece speak to the history of our estate, resembling our historic stone winery and the character of our wines. Only 20 vases were commissioned, each one unique from the others.
We've selected our 2020 Sylviane Rosé, also with a deep connection to our estate, to match the one-of-a-kind characteristics of the custom vases. With a bright pink hue, this Rosé is intensely aromatic with hints of ripe, juicy peaches, raspberries, and Asian pear with additional aromas of wildflowers, lilacs, and cotton candy. Ripe watermelon and candy dance on the palate, and vibrant acidity contributes to the long silky mouthfeel. This would be a perfect wine to enjoy with Mother's Day brunch!