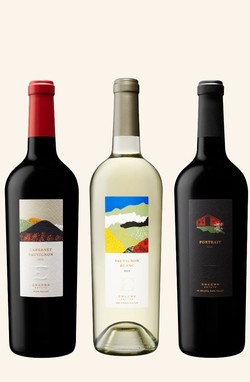 Celebration 6 Pack
It's the most wonderful time of the year to spread holiday cheer! Keep all your holiday guests happy with our Ehlers Estate Celebration Pack, which includes two bottles each of our 2022 Dry Creek Sauvignon Blanc, 2019 Portrait Red Blend, and 2019 Napa Valley Cabernet Sauvignon.
This is the perfect collection of wines to have ready for all your festive gatherings. Palate pleasing and versatile, you are certain to have a wine to share with any guest or holiday host.
Our 2022 Dry Creek Sauvignon Blanc is a bright, flavorful wine bursting with cherimoya, mango, lemon zest, and a hint of ginger. This is an excellent wine to pair with your favorite pre-meal snack or passed appetizer and is a wonderful choice to toast in the New Year.
A sublime blend of our estate Cabernet Sauvignon, Merlot, Cabernet Franc, and Petit Verdot, our 2019 Portrait Red Blend is a true crowd-pleaser. Bold and well-balanced, with a deep garnet hue, this wine pops with aromas of red and blackberries, cedar box, and licorice. A unique offering at any dinner party or perfect for a party of two in front of the fireplace.
Our 2019 Napa Valley Cabernet Sauvignon is exactly what a Napa Cabernet should be. Aromas of dark berries and spices, with a hint of cherries and flavors of blueberries, dark chocolate, and dry herbs, put this at the top of every Cab lover's wish list. This is also an excellent accompaniment to your holiday roast.
Be sure you are ready for whatever the holidays bring. Whether you have all your days planned or prefer spontaneous gatherings, the Ehlers Estate Celebration Pack has you covered.