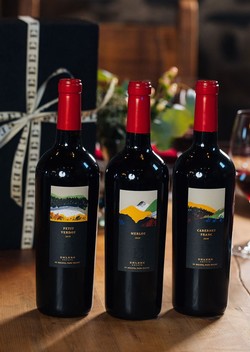 Estate Series Gift Pack
Gift Packaging and Ground Shipping Included
Perfect for the person who likes to think outside of the box, this trio of wines speaks to a curious nature. Our 2019 Cabernet Franc, 2019 Merlot, and 2019 Petite Verdot are head turners and conversation starters. When you're looking for great Napa Valley wines and a departure from Cabernet Sauvignon, these are the way to go.
Packaged in a gift box and wrapped with Ehlers ribbon. A personalized gift note may be added upon request. Ground shipping included.

---


Each pack includes:
2019 Petit Verdot: Deep Purple in color, with intense aromas of mocha, toffee, dark berries, candied cherries, and spice rack. Medium to full body, with bold, velvety tannins. Earthy, roasted almonds, cocoa, and dark fruit. Great acidity, well balanced with the tannin structure, concentrated flavors, and round mouthfeel. An elegant wine that is approachable right away.
2019 Merlot: This Merlot is medium ruby in color. Aromas of raspberry, red berry mix jam, fresh herbs, and vanilla. The palate is earthy mineral with forest floor, balanced smokiness, and red berry fruit. Great acidity and firm tannin structure. Concentrated flavors with a medium body.
2019 Cabernet Franc: Deep ruby in color with signature aromas of dry spice rack, dry herbs, violets, and unripe berries. Mineral in aroma and flavor, with graphite and dark cocoa powder. Oak and red fruit entangle with the herbs. Concentrated flavors with a full-body and well-balanced tannin structure. The 2019 is very complex but elegant with a velvety, long finish. Ready to drink now, though the extra oak aromas and flavors will benefit from some cellaring making the wine more luscious.
---