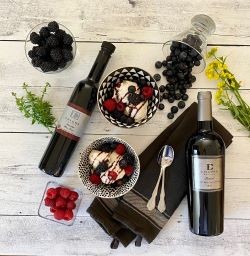 Valentine's Day Gift Pack
Valentine's gift pack includes one bottle of Ehlers Estate 2017 Portrait and one bottle of chocolate sauce infused with Ehlers wine. The chocolate sauce is exclusively available in this gift set, custom-made for Ehlers Estate by local confectioner Annette's Chocolates. Our 2017 Portrait is full of flavor and fantastic aromas of red berries, ripe strawberries, vanilla, mocha, and licorice. It is a lush, enjoyable wine with a rich mouthfeel and silky tannins.
Add dinner and candlelight for a perfect night in! The Portrait is incredibly food-friendly, so it will go well with your Valentine's favorite dish, and the chocolate sauce pairs perfectly with fresh berries and ice cream. If you need inspiration, check out the recipe page on our website.
Packaged in a gift box, our Valentine's gift pack is $120 and includes ground shipping within the continental US. To receive your gift by Valentine's Day, the deadline for orders is February 1st for the East Coast and Midwest and February 7th for the West Coast.