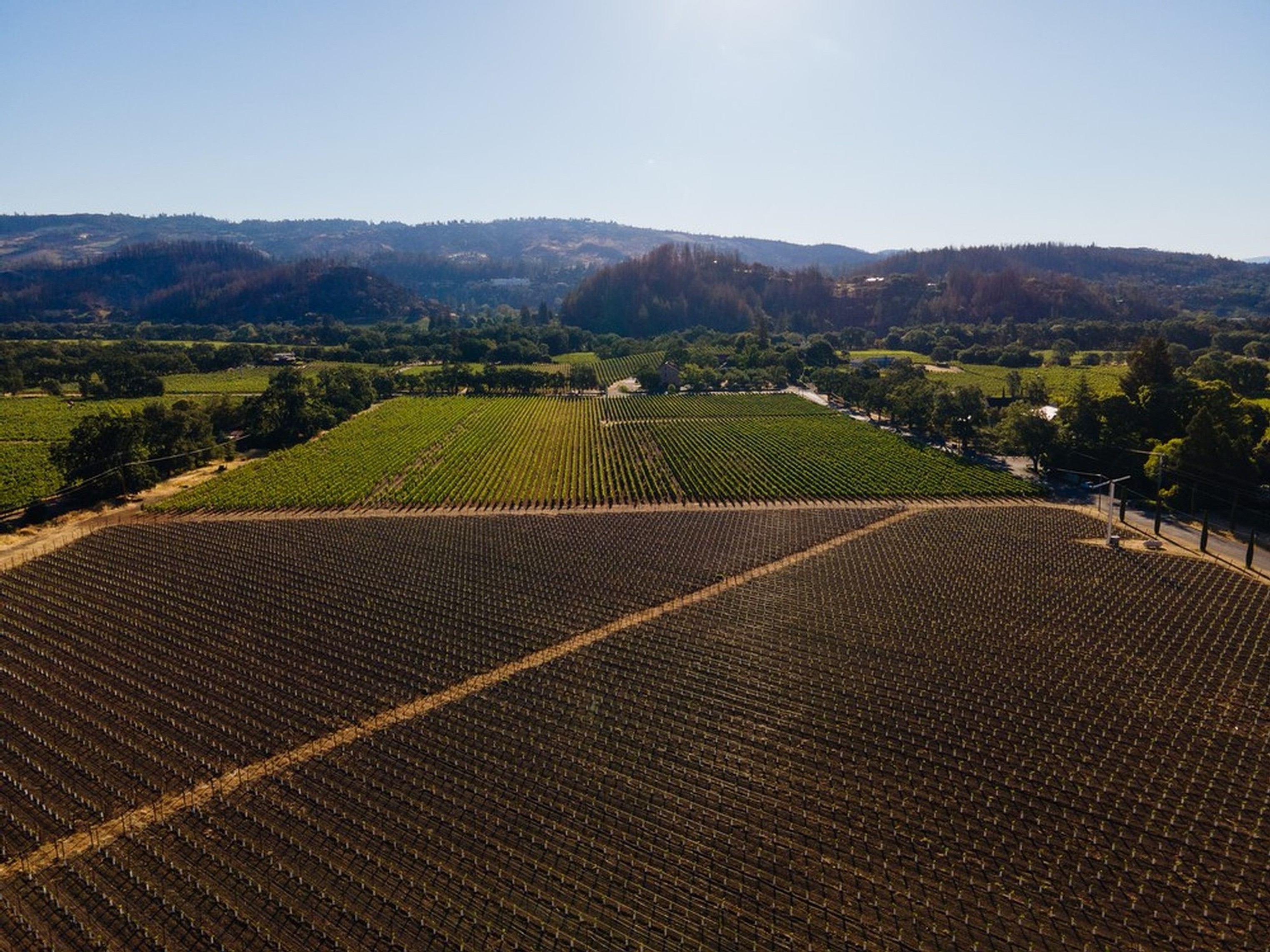 The Ehlers Estate vineyard is located on an historic winegrowing site in the northern part of Napa Valley's acclaimed St. Helena appellation. Grapes have been cultivated on this coveted site since the mid-1800s. Today, the Ehlers Estate vineyard, which is the source of exceptional Cabernet Sauvignon, Merlot, Cabernet Franc, Petit Verdot and Sauvignon Blanc, is farmed with strict adherence to organic farming standards.
In 2018, Laura Diaz Munoz was brought on as Winemaker and General Manager. Educated in Madrid and trained in various wine regions around the world, Laura ultimately landed in Napa Valley, where she has been making wine for over ten years. In the spring of 2019, Laura hired vineyard manager Michael Wolf Vineyard Services for farming and maintenance of the estate vines with Dominick Bianco taking over in 2023. Their meticulous nature, practical experience in the field, and respect for the land and those that tend it, made them a natural fit for Ehlers Estate.
Vineyards
Our vineyard benefits from a unique soil that is quite rare in California. The historic Ehlers winery building is in the center of the contiguous estate 42-acre vineyard. The farthest point on the property from the winery is approximately 600 yards, allowing the Ehlers team to have complete control over every aspect of the viticulture program, leading to greater focus and quality. The vineyards are in the narrowest part of the Napa Valley, nestled between the base of the Mayacama and Vaca Mountain ranges. 
The property is located at the Napa Valley's narrowest point, between the Mayacamas Mountains to the west and the Vaca Mountains to the east, and it benefits from a unique local microclimate. This location allows for constant airflow through the vineyard, which brings fog in the morning, but clears out in the afternoon, burnt off by bright, full sun at midday. Moderating on-shore breezes in the afternoon ensure slow, steady, and even ripening for the grapes.
Diversity
The contiguous 42-acre Ehlers Estate vineyard offers a remarkable diversity of soils, clones, and rootstocks and is approached as a mosaic of small vineyard blocks. Our vineyards have an average of 35% gravel, with some blocks containing as much as 65%
The three primary soils on the Estate are Perkins Gravelly Loam, Bale Clay Loam, and Aiken Loam The vineyard is divided into five main blocks (based primarily on soil type) and 25 sub-blocks, which are primarily defined by unique combinations of clones and rootstocks. Thirteen of these blocks (totaling 25 acres) are dedicated to six different clones of Cabernet Sauvignon planted on four rootstocks, allowing the winemaker an expansive palette of fruit during the blending process. The vineyard also features 3 sub-blocks of Merlot, 5 of Cabernet Franc (2 different clones and 1 rootstock), four of Sauvignon Blanc (Clone 1 and 376, 3 rootstocks), and a block of Malbec and one of Semillon (clone 12) one block of Petite Verdot.