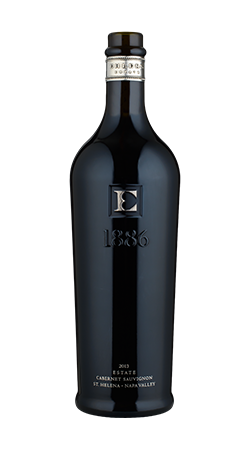 2008 1886 Cabernet Sauvignon
Winemaker notes: The 2008 Cabernet Sauvignon "1886" faithfully expresses the quality and character of our North St. Helena terroir. This is a rich, powerful, dense Cabernet Sauvignon with all the elegance and soft, silky tannin that has always defined our Estate. Notes of black plums, black cherries, violets, cinnamon, and toffee, layered with ripe red fruit and chocolate cherries. Complex, exciting, and elegant. The Petit Verdot contributes a wisp of blueberry and nutmeg, the Cabernet Franc firms up the structure in the front palate, and the small addition of Merlot warms up the velvety middle.
Vintage Notes: The 2008 vintage was the year of the frost. Drought conditions were followed by a lot of rain in the month of January, then it all dried back out again and we had a very early spring. The buds broke out just in time to be burned by our most severe frost in 35 years. The vines were damaged, crops were dramatically reduced, and the losses were tallied. As June rolled in we floated into exactly the type of warm sunny summer weather we all dream about. Long, clear, mild conditions continued all the way through harvest, allowing for the small intense crop to reach full maturity with grace. The wines are full-bodied, complex, and well structured. Alcohols are moderate and the acidity is ample and in perfect balance.
Final Blend: 83% Cabernet Sauvignon; 12% Cabernet Franc; 4% Merlot; 1% Petit Verdot
Fruit Source: 100% estate grown
Farming: 100% California Certified Organic Farmer, Demeter Certified Biodynamic
Oak Regime: 100% French Oak; 70% New
Primary Coopers: Nadalie, St. Martin, de Jarnac, Baron
Harvest Dates: Sept. 21 – October 30, 2008
Bottling Date: August 17, 2010
Production: 1,343 cases (12 x 750ml)
Average Maturity: 24.5° Brix, 3.76 pH, 5.6 TA
Finished Wine: 14.5% alcohol
Wine Specs
Varietal
Cabernet Sauvignon